Our Survivor of Suicide Loss Support Program began in 1979 as the first service of its kind in Canada for those experiencing loss due to suicide or homicide. We offer peer-based face-to-face grief support for individuals and families dealing with suicide and homicide bereavement. Our trained volunteers create a semi-structured, safe place in which survivors can identify, explore and clarify their thoughts and feelings.
Our carefully selected volunteer grief facilitators are highly trained and prepared to deal in a sensitive and realistic way with the emotional issues and problems left behind by suicide. Including the full range of normal and complicated grief reactions that survivors may experience. The support process leads survivors to a consideration of what normal grieving is under these circumstances, the meaning of a sudden violent death, and a sense of how they can manage.
Our Survivor of Suicide and Homicide Loss Support Programs continue to see a significant increase in participation year over year. In 2017, our Traumatic Loss Survivor Support Program saw a +38% increase in group session participation.
There is no universal or appropriate way to cope with a traumatic loss; however, sharing feelings and thoughts, facts and fears, helps to provide a personalized sense of reason and redefinition of normalcy in a situation without any rules.
Our Suicide Loss Survivor Support Program began in 1979 as the first service of its kind in Canada for those experiencing loss due to suicide.
Our professionally developed traumatic loss support program is a safe space in which survivors of suicide loss can identify/explore/clarify their thoughts as well as feelings and begin to navigate the aftermath of suicide loss with peer-to-peer support. Highly-trained grief facilitators (many of which are survivors of suicide loss or homicide loss themselves) and our professional staff have come together to create a safe, caring and non-judgmental environment that empowers program participants with pathways forward.
As a result of the unique nature of traumatic loss bereavement, and the scientifically proven value of connection and peer support, our Survivor of Suicide Loss Support Program offers both individualized and group meetings.
In Scarborough, North York & Toronto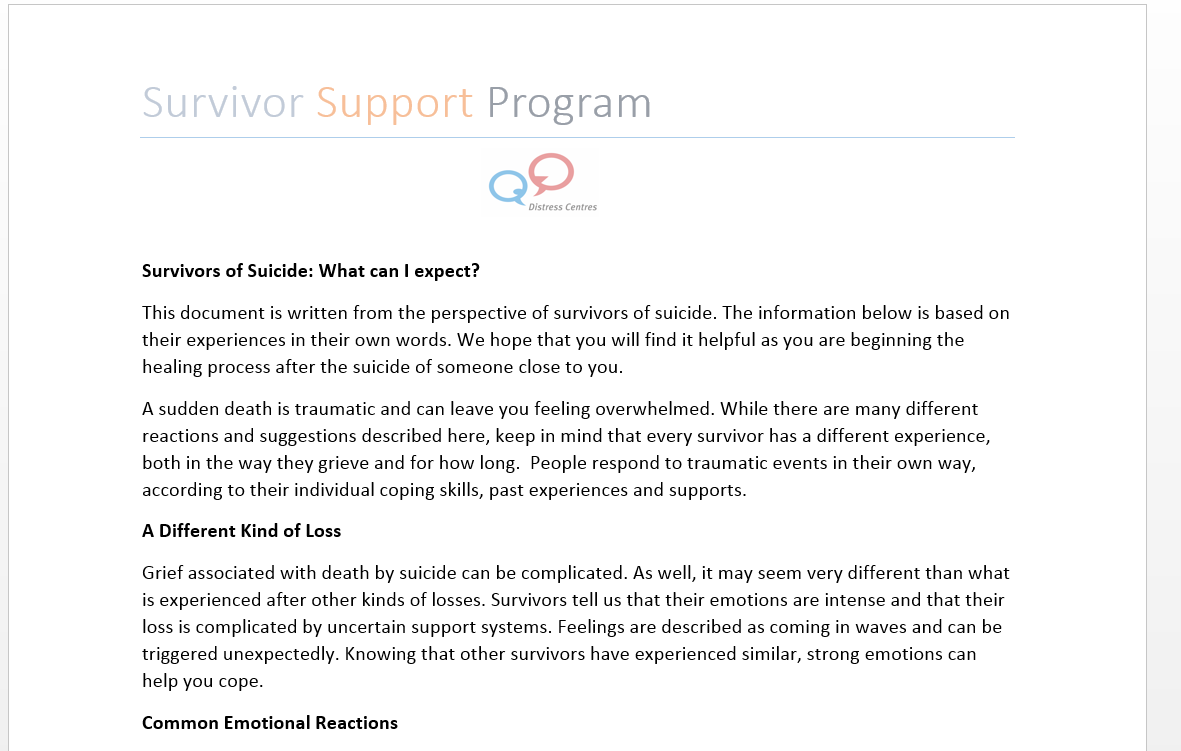 Survivors of Suicide: What can I expect?
This document is written from the perspective of survivors of suicide. The information attached is based on their experiences in their own words.
A suicide loss survivor himself, Alex has spent the last fourteen years building a community of support for those who have experienced a similar loss.
He has spoken on a plethora of topics pertaining to traumatic loss inclusive of but not limited to suicide loss and homicide loss as well as mental health for a wide range of highly acclaimed and grassroots organizations. And also lends his expertise, resources and support via in-person, online and telephone to individuals, groups and organizations across North America who are navigating traumatic loss.
As personable as he is knowledgeable, Alex is personally invested in helping each program participant find their personal pathway forward.
Today (and every day) in Canada approximately 11 people will end their own life by suicide. In addition, approximately 210 others will attempt to end their lives by suicide today. For each death by suicide. It has been estimated that the lives of 7-10 bereaved 'Survivors" are profoundly affected. This means that today in Canada 77-110 people will become newly bereaved by suicide.
In Canada suicide is one of the top ten leading causes of death, with rates increasing over the past 60 years. In 2012, suicide is ranked as the 9th leading cause of death in Canada. According to Statistics Canada there were 3,926 suicides in the year 2012. Males were three times more likely to die by suicide than females. This much higher rate of suicide for men compared to women has been a trend consistent over time in Canada. Although men are more likely to die by suicide, females are 3-4 times more likely to attempt to end their lives. In addition, women are hospitalized 1.5 times more often than males for suicide related behaviors. This discrepancy may be due to the fact that females tend to use less immediately lethal methods.
Based on data from the Canadian Community Health Survey, 14.7% of Canadians have thought about suicide and 3.5% have attempted suicide in their lifetime.
become a VOLUNTEER grief facilitator
Our volunteer grief facilitators consist of survivors and non-survivors who receive extensive screening and training.
Many have experience of suicide and/or homicide loss are now at a point where they can give support back to other survivors. Those with the experience of suicide and/or homicide loss bring a rich and diverse background in a variety of social support environments.
Please note in this role you will support both homicide and suicide loss survivors.
COMMUNITY OUTREACH
We are interested in supporting other community groups, both professional and non-professional, that wish to learn more about the unique problems faced by survivors of sudden, violent death.
Our team offers information, skills training, speakers and consultation on request. We provide information packages and custom workshops.
On-site facilitation is also available to agencies, residents and other groups in the immediate aftermath of a loss by suicide or homicide.